Invoice Finance used to be seen as a facility which was difficult and time consuming to switch. Business owners would see switching lenders as a daunting task for both themselves and their Customers. This resulted in many Businesses discarding the idea of switching and remaining with their current provider irrespective of cost or service.
Over at All Star when we advise our Clients or their advisers on how easy it is to move their facility we are often surprised by the reaction. The process over the years has become more and more streamline which means it is a great time for switching.
In a climate where most Business owners are looking to reduce costs and get the best deal like they do for their rates, supplies, overheads etc why do businesses not change their Invoice Finance facility more often? 
A simple change in provider can often save £000's and can be very beneficial to a business.
The good thing about looking to change providers is that you have already been approved once by a lender after passing their due diligence checks. This means that as long as there have been no fundamental changes to the business you are most likely to be accepted by another lender
How to switch Invoice Finance explained…
Contact All Star Funding Solutions who can take some background details on your current facility. We can then look to match your circumstances with another lender who will meet your requirements both on service and cost.
All Star Funding Solutions will usually recommend a couple of lenders for you to have discussions with based on your requirements.
The lenders will then provide you with an "Offer of Services" and if the offer is accepted the switching process can begin.
The incoming lender will request your permission to speak to your current lender to instigate the switch.
The two lenders (outgoing / incoming) will then liaise with each other regarding the outstanding sums on the account and the incoming lender will then agree to repay the outstanding balance on a defined day. This is known as the switching day.
The balance is paid off by the incoming lender and the account switches.
As you can see the switch process is managed by both the incoming and outgoing lenders. The Business Owner can continue to manage their business and the dedicated Relationship Managers of each lender will work towards a simple and smooth transfer.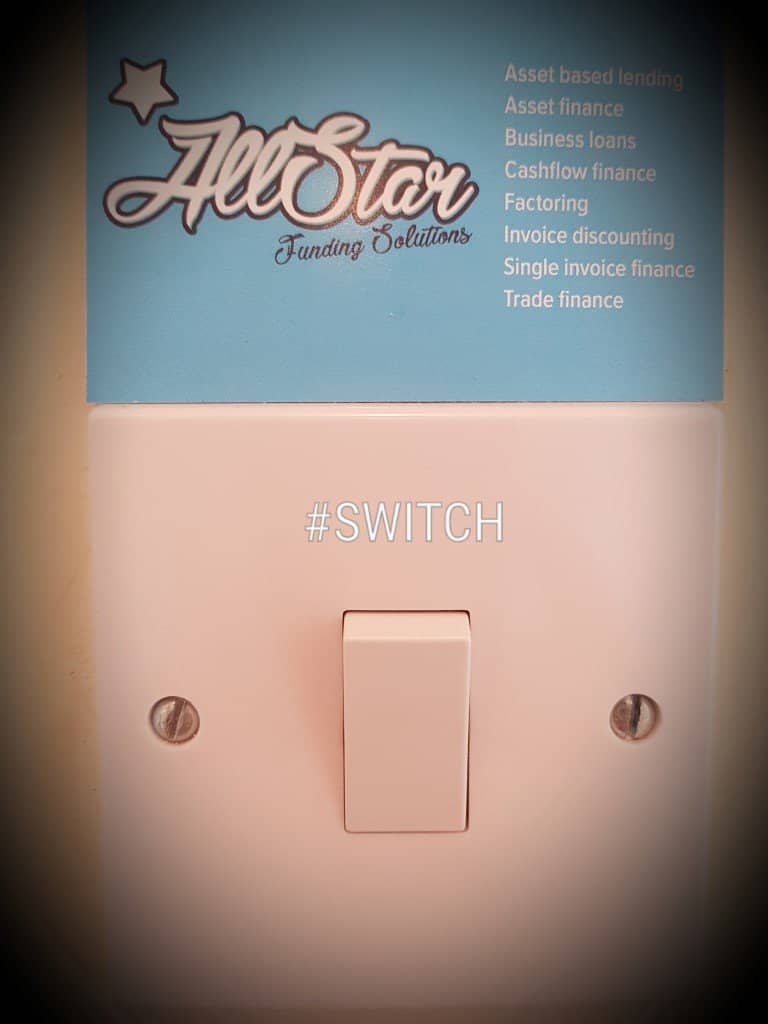 What are the benefits of changing provider?
Cost
Quite simply over 95% of Business Owners can save on their Invoice Finance costs by switching providers. There are a number of lenders who have long standing Clients on their books paying very high rates as they have not changed lenders or renegotiated their terms in years.
With this in mind these are our most preferred Clients. We are able to offer a greater service as we can obtain the most savings.
Facility is restrictive.
We often compare this to having a car. It may be at this point in time a nice sports car is the best solution, however, if you have a family and need a bigger car then the sports car is deemed useless. This is the same as Invoice Finance. As the business changes so will its requirements for funding.
There are many restrictions to an Invoice Finance facility. We can review these on your behalf. This will help you unlock additional funding which may have been restricted by the current lender.
Service
In conclusion we speak with Clients who are using a Factoring facility where the lender provides a credit control function. Our Clients will often say that they spend the majority of their time completing the credit control. If this is the case then we would advise them to switch to an Invoice Discounting facility. An Invoice Discounting facility does not come with a credit control function. Why pay for a service when you do not need it??
Over at All Star Funding Solutions we work with a large panel of lenders. We ensure our Clients receive the best service and to make the switching process as SIMPLE as possible. We can show you how to switch Invoice Finance lenders simply!
Finally if you are interested in talking to us about switching your current facility please click on the following link.
Further details on Invoice Finance can be found here https://www.allstarfunding.co.uk/invoice-finance/