What this means is that you can borrow against the amount of money that you are owed, the money tied up in your contract.
As a result, if work is taking longer than anticipated or planned, you don't have to be out of pocket to keep your business functioning.
Construction Finance – Here at All Star Funding Solutions, we appreciate that payment in the construction industry can be a lot later than planned. As a result, we pride ourselves on our ability to provide the best possible deal for our clients.
How can we help?
At All Star Funding Solutions we know that cash flow is the key driver for success in the Construction sector. We are experts in sourcing the very best funding and offer fast access to working capital. All Star Funding will negotiate on your behalf with our trusted lenders, to find a deal that suits you.
We can also source funding against uncertified applications for payment or staged invoices.
If you are looking to secure that next contract or have just won a new contract and are wondering how to finance it, get in touch as we can find the solution.
Contract Finance?
We are able to source funding for individual or multiple contracts. This is usually in the form of providing advance payments against invoices.
We are able to source funding where you are in control. Just decide which contracts you want to finance and when. Our lenders will just provide you with the funding.
We can find a bespoke tailored made solution purely for your business.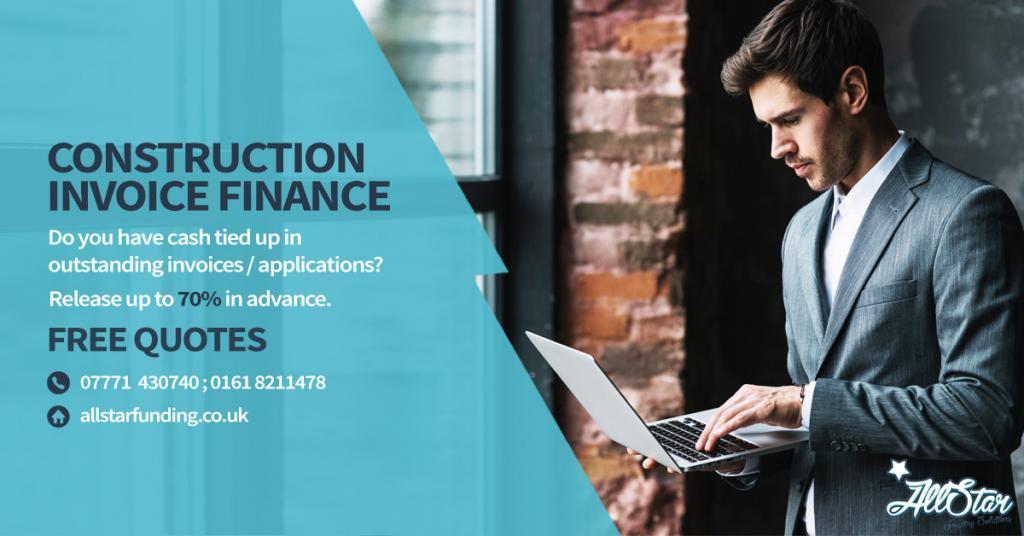 Why Use Contract Finance?
The key reason to use Contract Finance is to enable the business to maintain its cash flow.
If a business uses Contract finance more additional work is able to be completed. Contract Finance takes the worry or stress out of completing the contract.
We are able to source facilities with:
NO Set Up Fees
No Minimum Period
Complete Flexibility
No impact to your bank account
How Does Contract Finance Work?
Contract Finance is very simple to operate. The business advises the lender about the contract about to be entered into or has been signed. The lender will then undertake a due diligence process on both the business and the contract. If all is satisfactory a facility is then approved and an advance made against the work completed. The debtor pays the lender directly and the lender then remits a payment to the business less any charges. Simple.
Invoice finance (Factoring / Discounting)
Over at All Star Funding Solutions we have a panel of experts who are able to provide funding against your construction contracts.
Our lending panel often have a team of experienced quantity surveyors who understand the details of complex contracts and the challenges that contractors and sub-contractors face.
Our lenders are able to provide funding against applications for payments, stage payments and milestones payments. These often prevent issues for traditional lenders hence the reason for looking at a more specialist lender.
Our Invoice Finance lenders will agree a set percentage of the Invoice to be released at the interim which is often between 50%-70% up front, with the remainder being released upon payment from the debtor.
Check out our Construction Finance blog for more information https://www.allstarfunding.co.uk/construction-invoice-finance-2/
Building Materials Finance.
Furthermore here at All Star Funding Solutions we have a large panel of lenders who can look to provide stock funding or loans to help with the costs of purchasing Building Materials.
Tendering Finance
We work with a number of lenders who are able to assist you during the tendering process. If your business would like to have the comfort to know that the finance is in place before tendering for a contract then our lending panel can assist.
We have noticed that in some tenders it would state how the contract is to be supported financially and therefore having the funding in place prior to tendering can often add support to the tendering application.
We operate throughout the UK but have built strong relationships in the following areas Manchester, Leeds, Liverpool, Sheffield, Preston, Newcastle, York, Chester, Birmingham, Warrington, St Helens, Wigan, Bolton, Bury. If your business requires funding then we can help you find the solution.
Further industry related news can be found here. https://www.constructionnews.co.uk/financial/
Finally why not get in touch today?