Trade Finance – What is it?
To begin with Trade Finance is a unique supply chain funding solution for the SME sector
Firstly Businesses use Trade Finance as a way of owning the process of wholesale trades, it helps by freeing up a businesses working capital and management time, by funding product purchases.
Secondly by using a Trade Finance facility this ensures that the goods purchased by the business are delivered in a timely manner and as per specified.
Thirdly Trade Finance ensures that your Business is not putting your hard earned capital at risk. Trade Finance can be provided in a number of ways
Benefits of Trade Finance
Provides import/export/domestic trade finance solutions.
Presents a secure method of payment via Letter of Credit and Import Documentary Collections.
Funds the whole deal including the purchase price, logistics, duty, VAT etc.
Gives an opportunity to deal with commercially focused decision makers.
Supports the transaction based on assessment of management competence and integrity.
Provides finance at the entry point of the Asset Conversion Cycle.
Offers purchase funding solutions to businesses in the UK
Trade Finance Process
1) Order Placed
Your Business receives an order from a customer that you are unable to fulfil due to financial constraints or there is a potential risk on the order.
In particular a lender will act as the principal in the transaction, buying the goods and selling them to your Business on terms in keeping with your cashflow.
2) Goods Shipped
The lender will help negotiate with the supplier to provide payment, or means thereof (Letter of Credit, Import Documentary Collections etc.).
Following inspection, the delivery of goods are arranged.
3) Goods Received by Client
Goods are delivered to your Business or directly to the end customer.
It is important for the lender to ensure control throughout the transaction.
4) Good despatched to customer and invoice raised
Your Business is required to raise an invoice as agreed at the outset.
Invoice Settled
Your Business or the customer then settles the transaction directly with the lender.
In addition where a Business has invoice/asset finance in place, an agreement will be sought for advances to be paid directly to the Trade Finance lender.
Why use All Star Funding Solutions?
We can source lenders who can help expand your business with existing or new customers.
Our lenders can help free up working capital for other purposes.
Our panel of lenders can help to negotiate payment terms. This can help you price with confidence.
We only work with lenders who have good rates which are favourable with the market.
Our lenders provide facilities which are typically over the life cycle of a trade (usually 30-120 days), or on a revolving basis (up to 12 months).
We work with lenders who only charge for the amounts you drawdown.
Our lenders help to control the transaction and minimise the risk while you do business with new suppliers or new customers.
We can help with funding which includes the purchase price, logistics, duty, VAT etc.
How to apply for Trade Finance?
Finally applying for Trade Finance is very simple. Click the links above or call 0161 8211478 to speak with one of our specialists.
Finance approval is subject to status and terms and conditions apply.
FAQs
What is the role of trade finance?
Trade finance refers to the financial instruments and products that facilitate international trade transactions. The primary role of trade finance is to mitigate the risks associated with importing and exporting goods and services across international borders.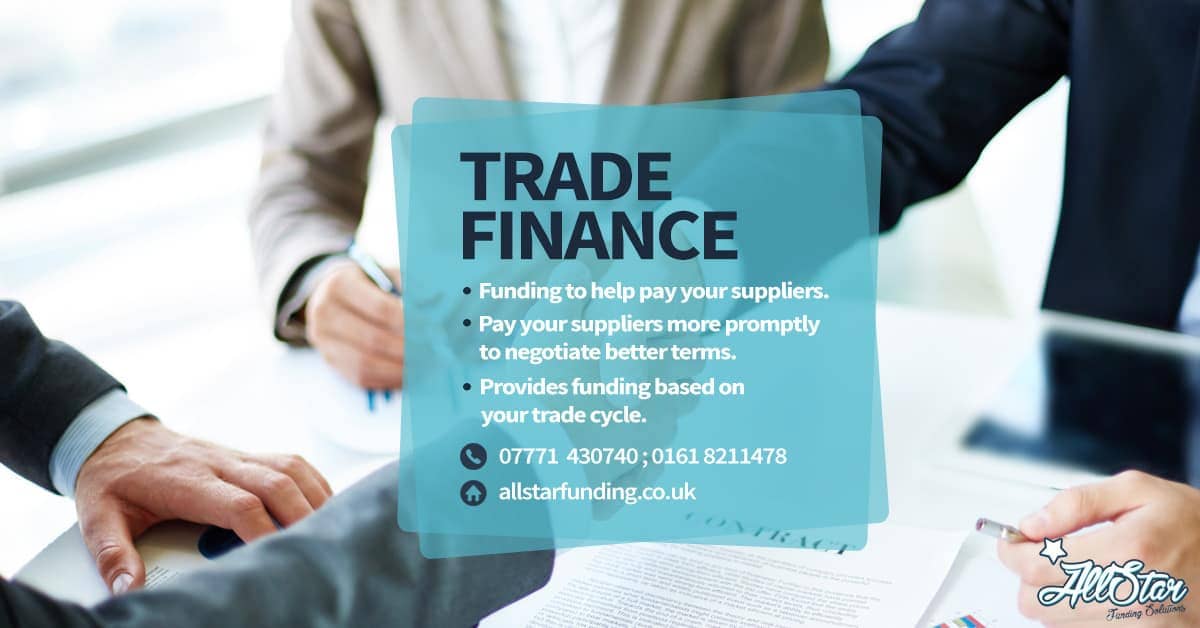 What are the main types of Trade Finance?
Letters of Credit (LCs): Letters of credit are a type of financial guarantee that ensures payment to the exporter in the event that the importer is unable or unwilling to pay. An LC is issued by a bank on behalf of the importer, and it promises to pay the exporter a specified amount of money upon presentation of certain documents, such as a bill of lading or an invoice.

Documentary Collections: Documentary collections are a type of trade finance that involves the use of banks to facilitate the exchange of shipping and payment documents between the importer and the exporter. In a documentary collection, the exporter sends shipping documents to their bank, which then sends the documents to the importer's bank along with instructions for payment. Once the importer pays, their bank releases the shipping documents to the importer.

Trade Credit Insurance: Trade credit insurance is a type of insurance that protects an exporter from the risk of non-payment by the importer. It provides coverage for non-payment due to commercial and political risks, such as bankruptcy, insolvency, and political instability.

Supply Chain Finance: Supply chain finance involves the use of financial instruments to optimize the flow of funds throughout the supply chain. It provides financing options to both buyers and suppliers, allowing them to optimize their working capital and improve cash flow. Supply chain finance can take many forms, including factoring, invoice discounting, and dynamic discounting.